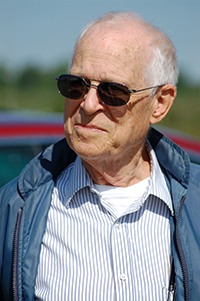 Springfield newsman Hank Billings died last Friday evening. He was 91 years old.
He chronicled Springfield history for 74 years. Though officially retired in 2001, his last column ran in the Springfield News-Leader early last week.
Why mention his passing here? Because Mr. Billings chronicled most of this airport's history — he told its story, warts and all, in the spare prose of a mid-century American newspaper man. With charm and wit.
Anyone who starts working at this airport should visit the scrapbook collection. Dusty old black pages with yellowed newspaper clippings. Through them, Mr. Billings tells our story.
August 28, 1949
Your Airport's Becoming a Busy, Bustling Place
Mr. and Mrs. Springfield, how much do you know about your four-year-old, $2,000,000 municipal airport?
Springfieldians are fond of driving to the airport for a meal or to watch the airliners land. A couple of Sundays ago, despite the fair competition, cars were parked four-deep during the time airliners arrived.
And Weatherman Williford figured that 1200 school children toured the weather bureau — and the airport — during two months last spring.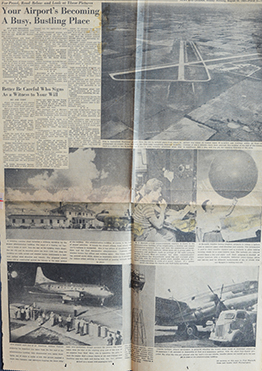 A Busy Place ...
Click for a larger view

November 15, 1953.
Airport's 8th Year Proves Busiest, Most Profitable
… our municipal airport — let's face it — is a pocket-sized 'port compared with mammoth fields like Chicago's Midway or Boston's Logan or New York's Idlewild.
Yet if our airport must be termed small, it also can be called efficient and distinctive.
It's distinctive because it is in the black, without the backbone of direct tax support.
It's in the black because it is efficient.
In this year of the Golden Anniversary of Flight, Springfield's airport celebrated it eighth birthday with its busiest and most profitable year so far.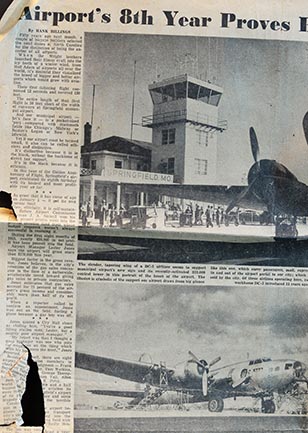 Airport's 8th Year ...
Click for a larger view
March 21, 1955
DEATH TOLL AT 12 IN PLANE CRASH – Big Airliner Down Just Short of Port
Death toll in Springfield's worst air tragedy, and first airline accident, early today rose to 12 and some of the 23 survivors remain in critical condition after last night's crash landing of an American Airlines Convair.
The only crew survivor, Capt. John J. (Jack) Pripish, the pilot, is reported in a "very serious" condition this morning at Burge Hospital.
Civil Aeronautics Administration and Civil Aeronautics Board investigators, unable to question the critically injured pilot, today began checking the broken remains of the twin-engine Convair "340" in a muddy pasture about two miles north of municipal airport.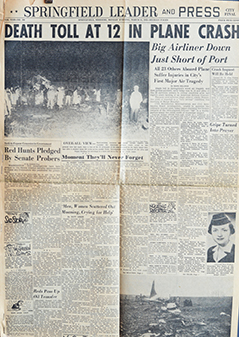 Big Airliner Down
Click for a larger view
Reported during the 1960 presidential campaign —
Windblown Welcome
As it had for Vice President Nixon several weeks ago, the sun came out Monday afternoon for municipal airport arrival of Lady Bird Johnson, gracious wife of vice presidential candidate Lyndon Johnson.
But a raw west wind of more than 30 miles an hour made it seem colder than the sunny 50 degrees.
"It is not a good day for banners," decided an FAA controller from the warmth of the glassy airport control tower, as he watched enthusiastic greeters struggle with welcome posters and banners.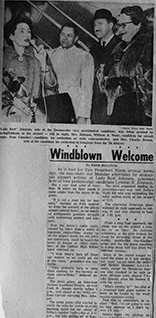 Windblown Welcome
Click for larger view
 
Mr. Billings loved aviation. He was a pilot. For awhile he wrote a column, "Hangar Flying."
In the December 13, 1970 column he reported news of:
A new federal funding source for airports.
The Ozarks Chapter of the Air Force Association will meet at 7:00 p.m. Tuesday in the conference room of the Harry Cooper Supply Company …
The municipal airport manager's council lunched at School of the Ozarks.
The state patrol has a new helicopter.
A new repair shop at the Bolivar airport.
Runway issues at Rolla National Airport, Vichy.
Airport improvements at the airport in Miami, OK.
A Joplin Globe editorial about the Joplin Airport.
He covered a beat like nobody's business.
Mr. Billings' wit is on full display in a circa 1970 column —
Anyone who has had his baggage transplanted by an airline would enjoy a unique film here Friday.
The "candid camera" type black and white film was made by the Massachusetts State Police to emphasize its warning to airlines of lax security at Boston's Logan Airport.
The film had exposure here to the airport board, City Hall staffers, and airlines and car rental personnel.
Compare that to what a newsroom scribe wrote —
… there will be a candid film on airport security, made at Boston's Logan Airport … the film will be narrated by a member of the Massachusetts State Police … The movie, which emphasizes the lack of security at large airports, will be repeated at City Hall council chambers …

A favorite clipping is from 1946. That's when American Airlines began service at the airport. Just one problem — there's no byline. It reads like Mr. Billings. But is it? He would have been at the paper less than two years. Would a cub reporter have used such detail, such word choice, such depth of understanding — such enthusiasm?
Did he write it, or not?
Take a leap of faith ...
February 1, 1946.
'Springfield' Flies Blithely Into Town
The Flagship Springfield came out of the sun and the wind and the bright blue sky this noontime, settled gently on the runway of the new municipal airport, taxied at the direction of a slender, blue-clad girl – and gave this city a first exciting view of travel and commerce by air.
"Look at the sun shine on the silver," cried a tow-headed school girl leaning against the ropes which barred the crowd from the concrete landing space.
"Look at the wind," murmured a middle-aged fellow with his overcoat collar turned up high - and maybe it WAS the wind you could see breaking under the propellers and swishing back over the wings.
The crowd had been waiting a long time - a good two hours and some longer - for this moment. They stood in a packed administration building to hear speeches.
WORTH THE WAIT
And then they stood out-of-doors in the cold wind, waiting - because the Flagship Springfield was delayed at Tulsa by cargo-loading, and at Joplin by wind conditions which made landing difficult (something which won't be experienced on Springfield's runways, permitting landing from every direction, in any kind of wind.)
But it was worth the waiting. At 12:23, the big silver ship was visible to the south. A hospital ship was expected also - perhaps this was it? No, the crowd murmured - hospital ships were always dark, and you could see this one in the sun.
The plane circled half-way 'round the field, to come in from the north. As it landed at 12:26, you could see its big black letters - "American Airlines" - and the gay orange-painted trim against the silver.   
Duska Peterson, American agent, directed the big plane to its first Springfield stop. Through the windows, you could see the passengers just as you see them in a passing train - and they looked out curiously as if they didn't know this was a great day in a great city . . .
… After about 20 minutes on the ground, the big plane took off again — for St. Louis and Chicago.
And the crowd turned back to its parked automobiles — prosaic means of transportation! — agreeing that it was a most exciting day for Springfield.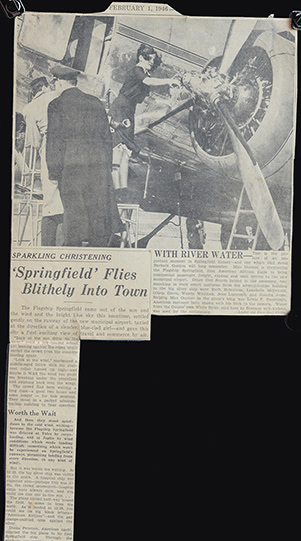 Flagship Springfield
Click for a larger view
21st Century — May 17, 2006
60 years after the flight of 'Flagship Springfield' the airport prepared to break ceremonial ground for its third airline terminal.
Who should speak at the event, besides the obvious dignitaries?
Well, Mr. Billings, of course. We asked and he accepted. What he didn't know was that we had a plaque for him. The inscription read:
Presented to Mr. Hank Billings during the groundbreaking ceremonies for the Midfield Terminal at Springfield-Branson National Airport. Thank you for your interest in the aviation community and for more than half-a-century of journalistic excellence.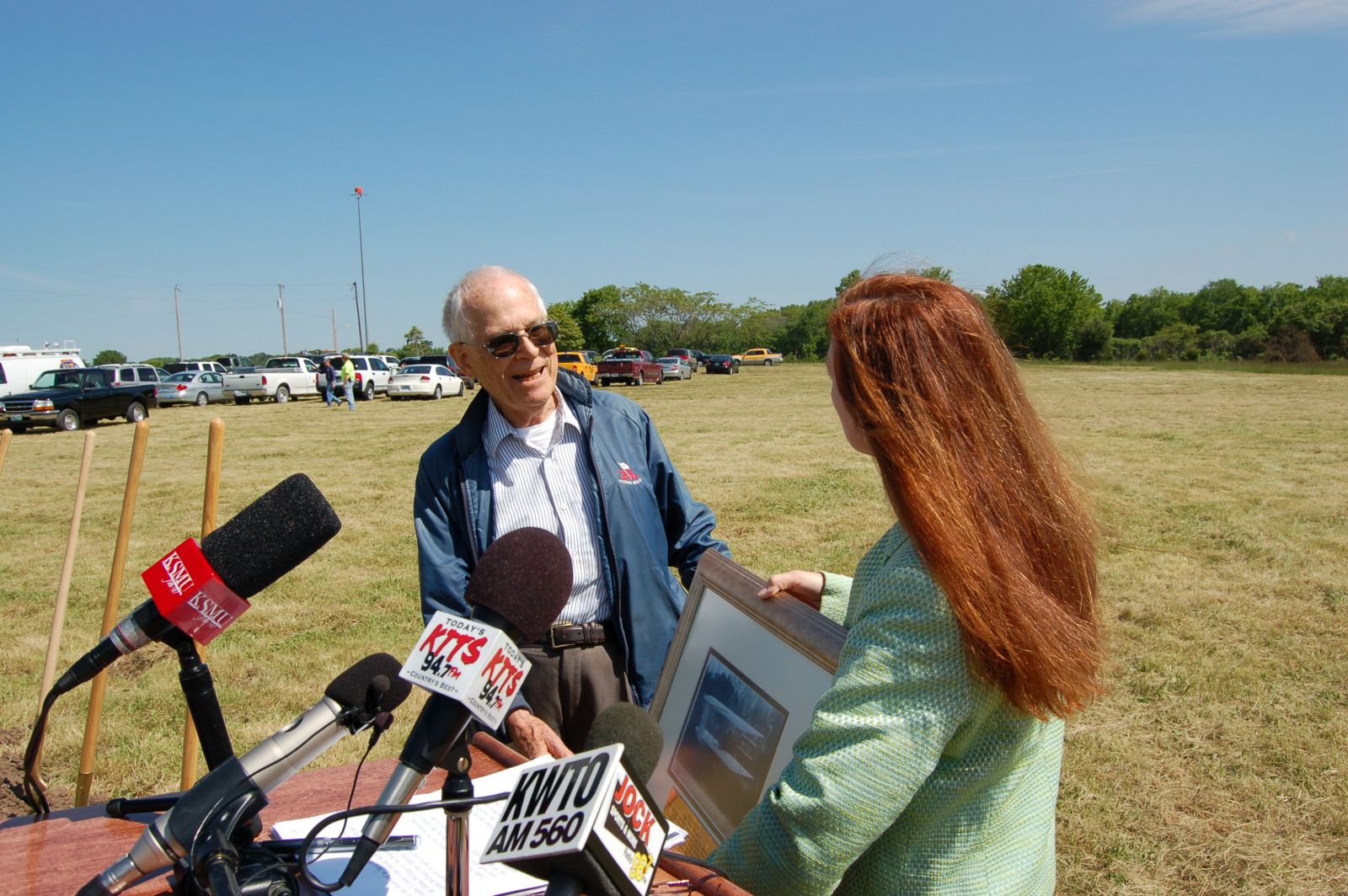 Mr. Billings receives the plaque from
Raeanne Presley, chair of the airport board.
Click for a larger view
—30—