It's one of history's most iconic war planes — and it returns to the Springfield airport September 25 - October 1. It's the World War II, B-25 Mitchell bomber, Maid in the Shade.
This warbird will be in Springfield as part of its summer tour of the U.S. and Canada. The tour is made possible by the volunteers of the Arizona Commemorative Air Force Museum.
The public will have the opportunity to climb aboard the B-25 to soak in the breathtaking stories of courage and service by Americans during one of the most important periods in U.S. history. The B-25 is an exceptionally rare aircraft — it's one of 34 in the world that still fly. The aircraft was used in America's first large-scale bombing offensive in the Philippines.
It doesn't cost anything to see the bomber from the outside, though tour oganizers do ask for a donation. It does cost to tour the inside of the plane, or to take a ride. Ride reservations are required. You can book in advance by clicking here.
Tours cost $10 USD per person and $20 USD for a family of four (US and in Canada).
Seats are $325 USD per waist gunner compartment seat or $650 USD for flight deck jump seat and are limited to seven passengers per flight.
For more information about the Flying Legends of Victory Tour, visit  www.flyinglegendstour.com.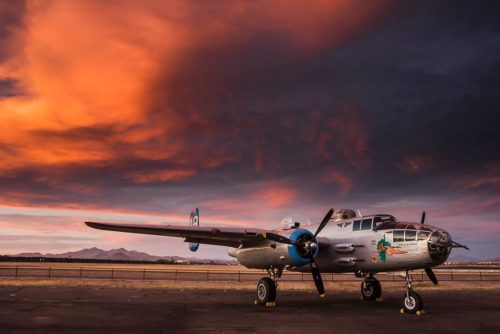 PLACE, DATES & TIMES
The B-25 exhibit will be at the airport's old airline terminal:
Dates and times:
Monday, September 25 – Sunday, October 1, 2017
Tour Hours: Monday, Friday – Sunday: 2 pm – 6 pm; Tuesday – Thursday: 9 am – 6 pm.
Ride Hours: Friday – Sunday: 10 am – 1 pm