Pinkley's Second Chance ...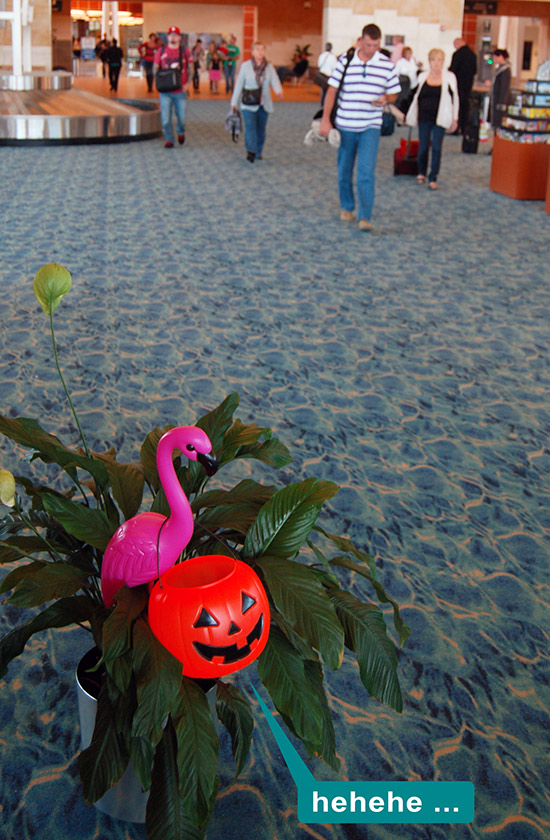 In just 2 days Allegiant Air begins non-stop service between Springfield and Ft. Myers/Punta Gorda ...
Pinkley was excited when he heard about trick-or-treat. "Sounds like an easy way to raise money for a plane ticket!"
Ummmmmm … not so much ...
First there was the matter of Jack. He strained Pinkley's neck, was a terrible conversationalist, and had an evil grin. What did he know that Pinkley didn't?
Secondly — most people gave candy instead of cash!
Thirdly — the Tootsie Rolls gummed up Pinkley's beak. He could barely utter a "twank woo!" 

By the time trick-or-treat was over there was just enough cash for for a one-way ticket to Ft. Myers, with five dollars left over. Pinkley was disgusted, but it was a blessing in disguise. For you see, dear reader, it meant that Uncle Fabio Ferdinand could fly to Ft. Myers —leaving the other Flamingos in peace — and stuck in Springfield.
This winter, when it's cold and nasty out, don't you be stuck in Springfield — Allegiant's non-stop flights to Ft. Myers will keep you sunny and warm: www.allegiant.com