Pink Improvisation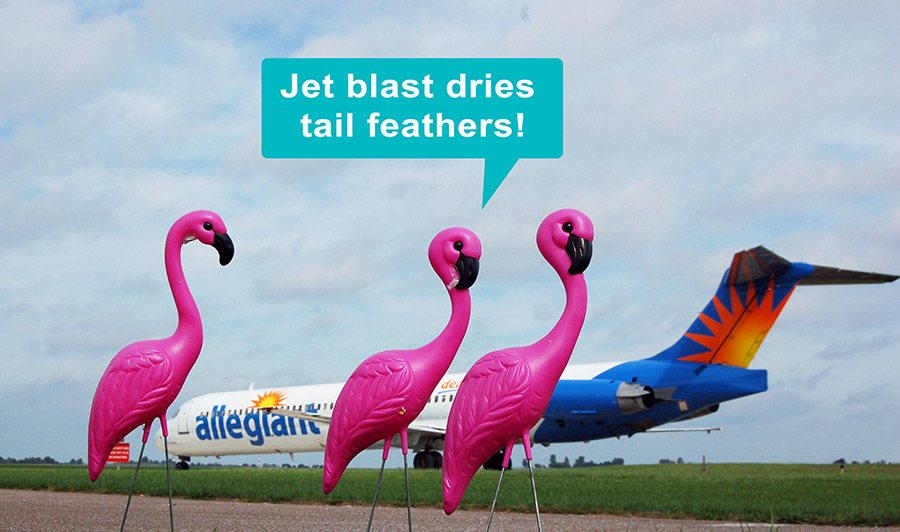 In just 24 days Allegiant Air begins non-stop service between Springfield and Ft. Myers/Punta Gorda ...
As we learned last week a flock of flamingos descended upon our fair airport several weeks ago and their numbers keep growing! They're roosting here because they want to take Allegiant's inaugural flight from Springfield to Ft. Myers, Florida. You see these birds are from that part of Florida and they want to go home (they got stuck in Springfield last year when their recreational vehicle broke down, but that's another story...)!
Anyhow ...
These birds are taking over the airport –– and boy –– let me tell ya, these are fussy birds. Demanding! Never satisfied! You should have seen the fit they threw when their feather dryers and tail gel were confiscated at the security check point ... no matter ... they improvised!
Don' be ... ahem ... a bird brain

! Take a look at Allegiant's low round-trip fares to Ft. Myers/Punta Gorda: www.allegiant.com.
While you're at it, be sure to look up Allegiant's other non-stop destinations from Springfield — Las Vegas, Phoenix, Orlando, and Tampa/St. Pete/Clearwater.