New air service begins at the Springfield Airport this Thursday, November 5, with non-stop flights between Springfield and Charlotte, North Carolina. The inaugural flight is Thursday afternoon on American Airlines.
American's Charlotte service will make it easier to connect to the Northeast United States. Right now Springfield Airport (SGF) customers generally fly through Chicago or Atlanta to reach Northeast destinations. Charlotte offers another option. New York City, Philadelphia, Orlando, Pittsburgh, Boston, Washington, D.C. These are just some of the cities now available to Springfield through American's Charlotte hub.
The addition of Charlotte service virtually assures that SGF will see a record number of passengers this year, with a projected total of 914,000. The previous record year was 2005, with 888,738 total passengers.
"This sort of growth is counter to what's going on in the industry," says Michael Boyd, SGF's air service consultant. "When compared to airports of similar size across the country, SGF is by far one of the nation's most prolific airports in terms of scheduled flights and seat capacity growth."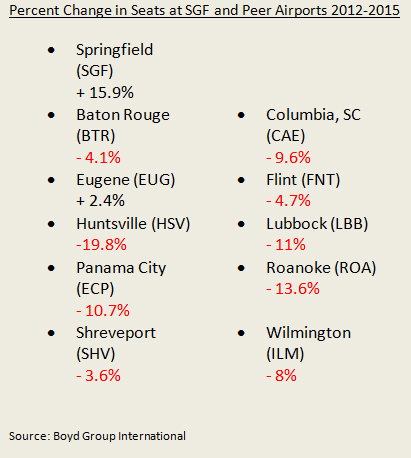 Boyd says the addition of Charlotte service will likely make 2016 another record year for SGF.
"The Charlotte service on American should increase the total passenger count by approximately 36,000 in 2016. If other Springfield air service stays the same, or increases, it'll be another record year."
In 2020 Boyd expects SGF to have more than a million total passengers.
"The strength of the Southwest Missouri economy is clearly a main driver for this growth," says Brian Weiler, the airport's director of aviation. "All the airlines serving Springfield are doing well here. They're adding bigger planes to the mix, and flights are frequently sold out."
The addition of Charlotte service gives SGF an average of 25 daily departures, and eleven non-stop destinations. Eight non-stops is the average number for similar sized airports.
Four airlines serve Springfield: Allegiant, American, Delta, and United. They provide non-stop flights to: Los Angeles, Phoenix, Las Vegas, Denver, Dallas, Chicago, Atlanta, Charlotte, Tampa/St. Petersburg, Orlando, and Punta Gorda/Ft. Myers.