Another Fine Mess!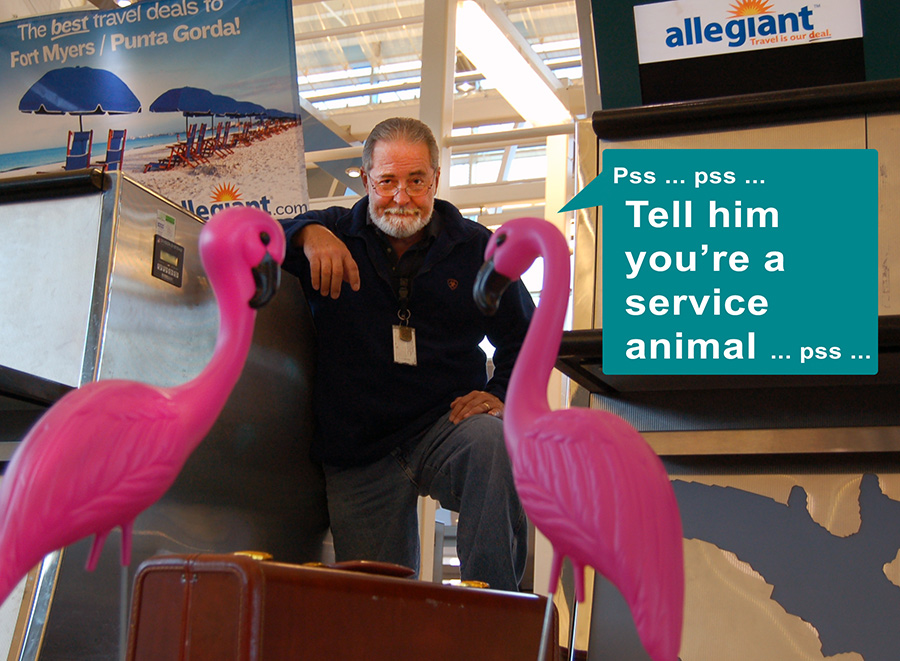 Allegiant Air begins non-stop service today between Springfield and Ft. Myers/Punta Gorda ...
Oooooh ….
Franchesca Flamingo has had it up to here … If it's not one thing it's another!!!!
They FINALLY got enough money to fly the entire flock back to Florida on Allegiant's new service to Ft. Myers (long story short –– Pinkley took five bucks from trick-or-treat and played the Missouri Lottery; he won and used the proceeds to pay for tickets and fake IDs).
There was just one catch … since the tickets were bought online there was no way to verify that the ticket buyer was human. That cold truth hit the flamingos smack between the eyes when they reached the ticket counter.
The ticket agent looked up from his screen. Seeing nothing, he looked down and to the side. He couldn't quite believe his eyes ...
"No animals," he said softly, yet sternly.
Pinkley gulped and whispered desperately to Franchesca …
His words earned him at least the next six months in the dog house …
Don't end up in the dog house –– take your true love on a Florida vacation this winter on Allegiant's non-stop service to Ft. Myers/Punta Gorda, Florida. You'll be glad you did: www.allegiant.com