Rules of the Air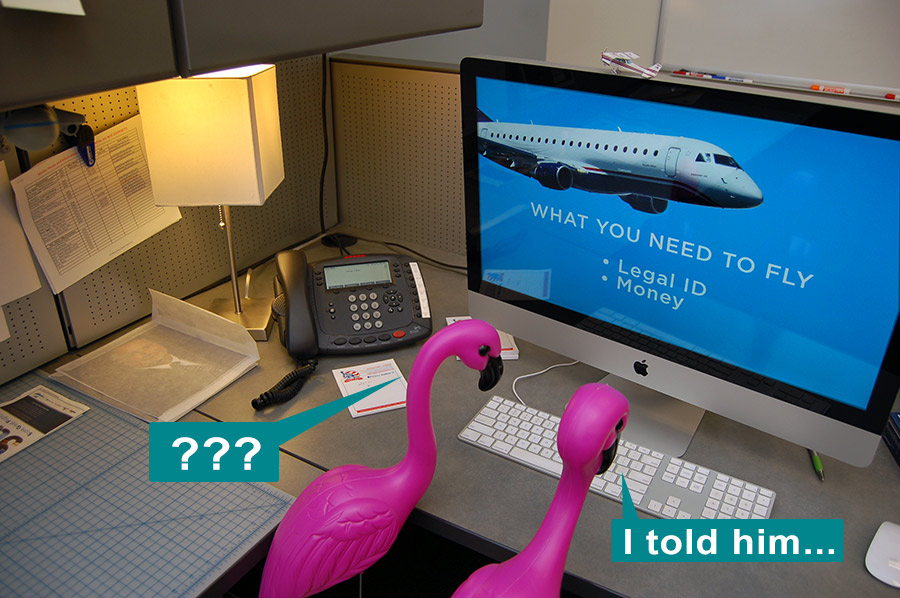 In just 10 days Allegiant Air begins non-stop service between Springfield and Ft. Myers/Punta Gorda ...
Franchesca told Pinkley a thousand times ... "You can't just get on an airplane for nothing — it cost money!"
"Ahhhhhh ... nonsense my dear! All we need to do is 

show up and it's home again, 

home again, Ft. Myers here ... we ... cooooome!" 

It should be noted that Pinkley can't sing worth a hoot! 

In case you missed out on previous tall bird tales, Franchesca and Pinkley are stuck in Springfield. Their recreational vehicle broke down here a few years back and they didn't have any money to get it fixed!
Now they're camped out at our airport waiting for the October 31 inaugural flight to Ft. Myers/Punta Gorda on Allegaint. They want to go home ... but Pinkley just figured out that they need money for the tickets ... This raises the question: do flamingos know how to count?
Regardless, it won't take much money to fly on Allegiant. After all, Allegiant has low, low fares — check them out: www.allegiant.com