Longing for Home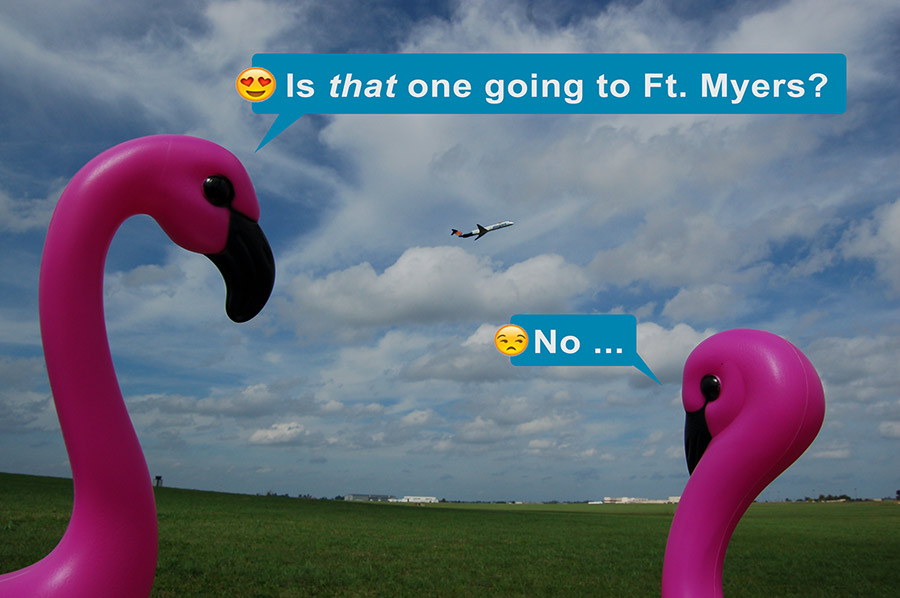 Allegiant Air began non-stop service between Springfield and Ft. Myers/Punta Gorda 19 days ago! What are you waiting for?!
It's been over two weeks now since Pinkley and company found out that flamingos aren't allowed on airplanes.
At first he moped around and wouldn't talk to anyone –– not even Franchesca. That was fine with her. She still hadn't forgiven him for trying to pass her off as a service animal …
Then last Wednesday Pinkley took to wandering around the south end of the airport. Every time an Allegiant jet took off he'd gaze upward and sigh. Franchesca finally took pity and joined him. She knows she needs to snap him out of it … there are things to do! What kind of things, you ask?
Well, suppose you're a flamingo from Florida and you're marooned at an airport in Missouri … and it's getting cold out … what would you do? Get some clothes, of course!
Meanwhile …
If you happen to drive out West Division anytime soon be sure to take a gander to your right as you pass the airport — you might just see two flamingos staring skyward.