Pinkley Abandons All Hope!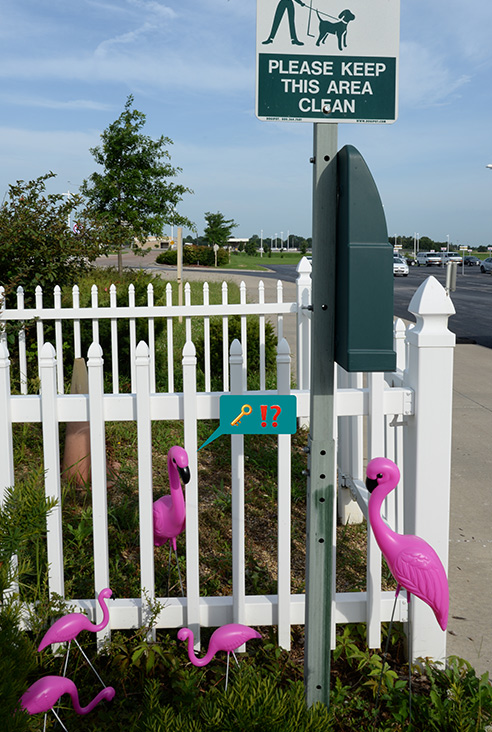 Franchesca's Fury
Lester, Rob, and Gary had never seen such a sight. It's their dad bird, Pinkely Flamingo, in the airport pokey! But that isn't the worst of it ... oh no ... not by a long shot.
Every few minutes fuzzy lap dogs, aka, "service animals," dropped by to conduct business. They snapped at Pinkley's ankles and Pinkley would holler, "I haaaate rat dogs!"
So anyhow ...
Yes, the chicks were shocked and stunned — not just because Pinkley was in the slammer, but because of his crime: he'd hijacked the airport Facebook page over the Fourth of July weekend!
Pinkley caused a Facebook ruckus: he flirted with the ladies. He fussed at, and flung shade on wise crackers, and generally disrupted social media niceties. He even proclaimed himself in charge of the airport (for crying out loud)!
By Monday morning his beak was sore from all the ... ahem ... hunting and pecking. 

But wait, it gets worse ... Pinkley missed the chicks' first birthday party. It was on July Fourth, but Pinkley missed it — because he'd been too busy causing social media mayhem!
Standing outside the pokey, along with the chicks, Franchesca gave Pinkley the Death Glare of Doom (and fury). She was sooo mad she persuaded Officer Kevin to give her the pokey key.
"There's no way he'll miss your second birthday boys. I know exactly where your dad bird will be!"
At just that moment a tie-dyed Parisian lap dog finished his business. Franchesca motioned him over. She whispered in his ears and gave him the key. The Parisian lap dog was an earthy sort, but his speech quite formal.
"Oui, Madame! I shall lose the key in Les Catacombes de Paris. I bid you a good-bye!"