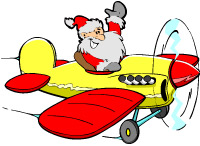 Holiday fliers have a new way to find their way around the Springfield airport terminal: Google Maps.  The website recently made a detailed floor plan available when computer users zoom in on the building. It's a useful tool for anyone, but it's especially good for infrequent fliers. And during the holiday travel period airports are full of infrequent fliers.
The floor plan is visible on smart phones, and other mobile devices, as long as the satellite view is turned off. It's also visible on desktop computer web browsers, as long as Google Maps is in the classic configuration, with the satellite view turned off.
Finding one's way around the airport is just one of the challenges facing infrequent fliers. Here are additional tips to make sure holiday flying goes smoothly:
Get to the airport early — at least an hour-and-a-half before your flight is scheduled to leave. That's generally plenty of time to get checked in, through security, and to the gate.
Check-in to your flight before you get to the airport. All Springfield airlines allow check-in on their websites, and on mobile phone apps. During the online check-in process you can print boarding passes. Checking-in this way saves time because you don't have to stand in line at the ticket counter.
Don't over-pack. Take only what you absolutely need –– an overstuffed bag can slow down the security screening process. Carry-on items can be no bigger than 9" X 14" X 22" or a total of 45 linear inches.
For carry-on bags: liquids, aerosols and gels, are allowed in limited quantities: no more than 3.4 ounces of any one product. All products must fit into one (1) quart-sized, clear, plastic, zip-top bag.
Make sure all your bags have ID tags. Be sure your bags have tags on both the outside and inside.
Before you get to the security screening line make sure: you have a government issued photo ID if you're 18 or older. Make sure the name on your ticket matches the name on your photo ID.
Don't wrap presents. Security screeners may unwrap them for inspection.
In past years the Transportation Security Administration (TSA) required all passengers to take off shoes, jackets, sweaters, and hats. That changed several weeks ago when TSA introduced the "expedited screening" process at Springfield. It allows predetermined low risk passengers to keep those items on.
Don't be alarmed if you're picked for expedited screening. It's a random process that means you get to go through screening with less hassle,while others go through the usual drill. If you're selected for expedited screening, look at as a holiday gift, and a great way to start a trip!