In Which a Haberdasher Called Roxie Saves the Day!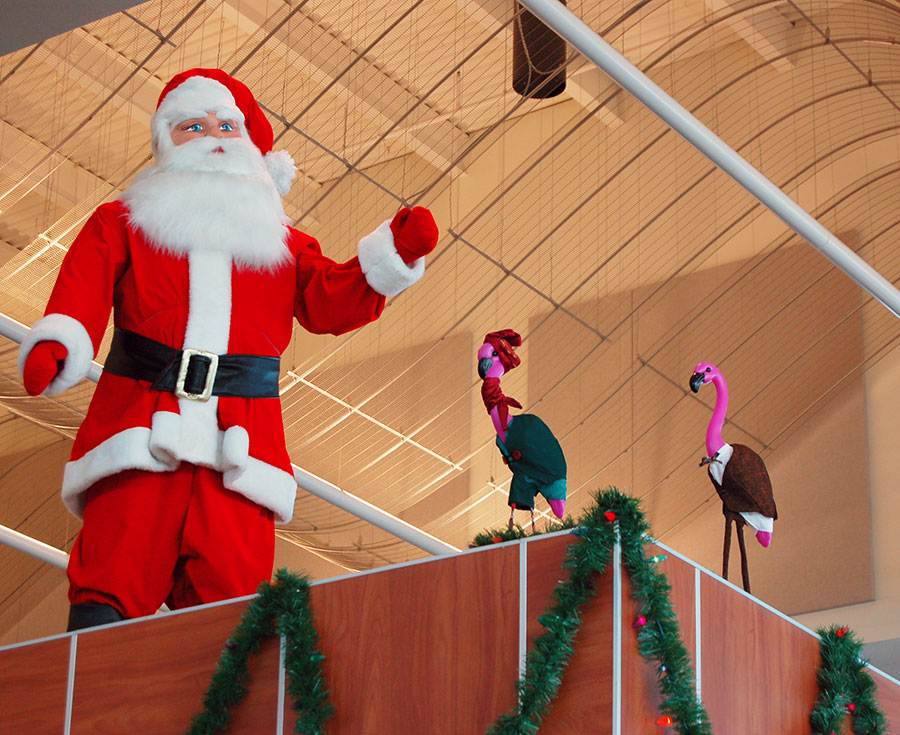 By the time Pinkely quit his job at the General Aviation Office his toes were froze. His beak was frozen shut. The ladies at the GA office considered the sudden lack of chatter a blessing ...
So anyway ...
With all the snow and freezing rain our feathered friend had to get some clothes, and another job. But first clothes ...
Barbie clothes were too small.
American Girl clothes fit wrong in all the wrong places — ouch — where on earth do you get flamingo clothes?
The answer came in the form of Roxie the Haberdasher. Telling Pinkley to suck in his gut, she measured, pinned, snipped … snip-snip, stitch-stitch, and VOILA ... clothes! Not just any clothes, but FINE flamingo threads! Pinkley wasn't sure about the bow tie, but hey, neck ties were way too short ...
Upon seeing the results, Franchesca pulled rank and demanded her own attire. And there you have them: clothed flamingos. All they needed now was gainful employment.
After hunting jobs online they found one that looked promising: "Needed: fill in elves."
Their new boss was a frumpy sort, in old, tired clothes, by the name of Claus. His elves had abandoned him for new jobs as baggage handlers with the airlines. (

) All Franchesca and Pinkley had to do was stand next to him, on top of an airline ticket counter, and look marvelous.