Flamingo Flash Mob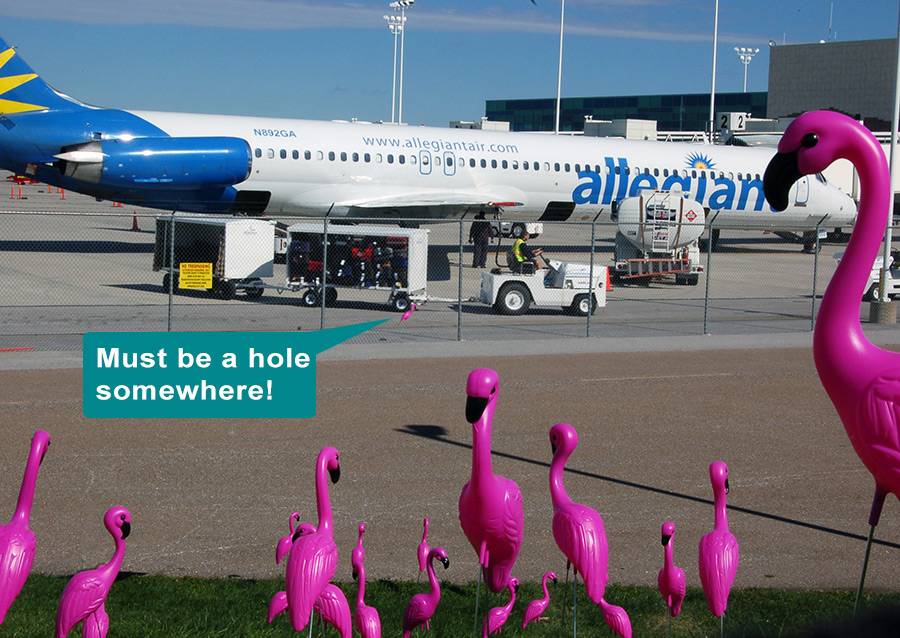 In just 7 days Allegiant Air begins non-stop service between Springfield and Ft. Myers/Punta Gorda ...
Pinkley Flamingo is in a pickle. That's him, standing there on the right, closest to the camera.
This afternoon a huge, pink, ominous mass of relatives arrived at the airport. They're all expecting to hop on Allegiant's inaugural flight to Ft. Myers/Punta Gorda, Florida next week. Pinkley hasn't had a chance to tell them the bad news — they can't fly for free — they need money. The very thought of telling them scares him pinkless. That's because some of his relatives have really bad tempers — especially the fellow checking out the fence. He's from South Miami ...
Before next Thursday rolls around Pinkley needs to figure out how to come up with a bunch of cash — enough for himself and all those relatives. He's not sure what's he's going to do ...
Well, there's one thing for sure: you won't have to come up with a lot of cash to be Florida bound. Check out Allegiant's cheep, low, low, low fares: www.allegiant.com