The new year brings significant changes at the Springfield airport — all of them designed to improve customer service.
With yearly passenger numbers expected to soon reach 1-million per year, improvements include expanding and remodeling the restaurant in the gate area, adding charging stations, and upgrading the free Wi-Fi. These are the first major improvements to the airline terminal since it opened in 2009.
"These improvements are driven by passenger growth," says Brian Weiler, airport director. "With several new routes and airlines going to larger jets, customers using the airport have grown 35 percent since 2011.  We want our terminal amenities to keep up."
Customer seating at the restaurant is in short supply on a regular basis, with wait lines often spilling into the concourse. The size of the restaurant will expand by over 50 percent to help with the overcrowding.
A bigger restaurant means a new and improved kitchen — making it possible to expand the menu. New menu items will include made to order breakfast, and fresh gourmet hamburgers.
Restaurant remodeling begins in mid-January and should be done by spring. During the remodel the restaurant will operate in temporary space, with a limited menu.
HAVE DEVICE, WILL TRAVEL …
Wi-Fi allows computer users to connect to the Internet wirelessly. The Springfield airport began offering it for free in 2003 — one of the first airports in the country to do so.
"The upgrade should speed up connection speeds considerably," says Kent Boyd, airport marketing director. "The last Wi-Fi upgrade was five years ago and sometimes it struggles to keep up. It seems like every customer in the terminal has a wireless device, be it phone, tablet, or computer."
And all those wireless devices need charging …
The airport currently has eight dedicated charging stations in the gate areas. That number will expand to 80. Most of the new charging stations will be located at dedicated task tables.
"Making improvements like this are vital to the airport's success," says Weiler. "It's part of an on-going process of making sure our airport offers the best possible customer service."
Project architect: Butler Rosenbury & Partners
Springfield, MO
Prime contractor: Crossland Construction
Springfield, MO
Restaurant operator: Air Host, Inc.
Memphis, TN
Approximate cost, including charging stations: $750,000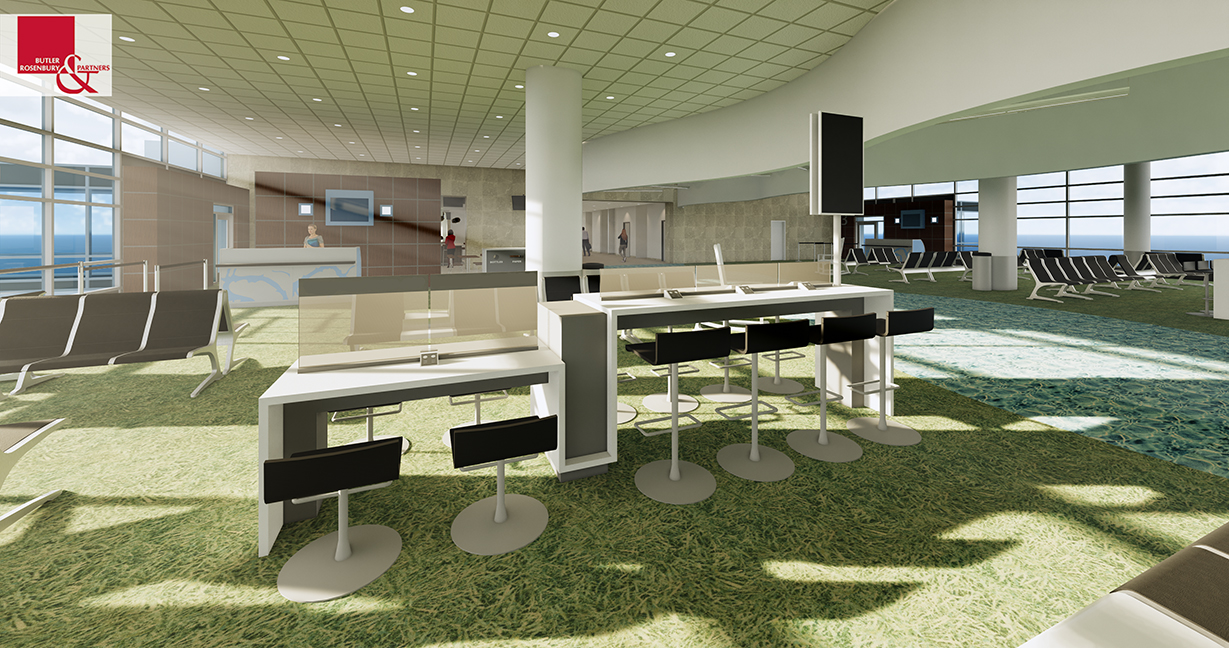 (Above) Conceputal rendering of a charging station
(Below) Conceptual rendering of the expanded restaurant