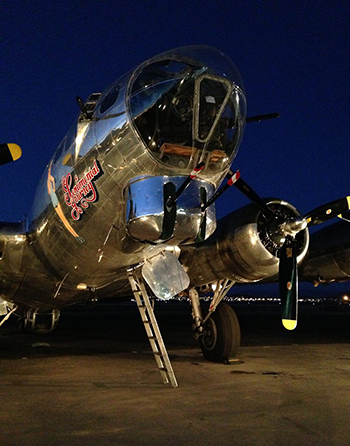 The B-17 Flying Fortress "Sentimental Journey" comes to the Springfield Airport June 21. The aircraft will be open for public tours June 21 through June 26 from 9 a.m. – 6 p.m. To schedule a ride call: (602) 448-9415, or email: [email protected].
The aircraft exhibit will be in the airport's general aviation complex, near the OzAir Charter hangar. The street address is 2525 N. General Aviation Avenue, Springfield. Directions: drive to the end of W. Kearney Street (5000 west) and turn right on N. General Aviation Avenue. Follow signs to exhibit parking.
"Sentimental Journey" is one of ten airworthy B-17s remaining out of over 12,000 manufactured for combat during World War II.
After the war "Sentimental Journey" flew for training, testing and at-sea rescue missions and was eventually sold for surplus and used as a fire bomber. In 1978 the aircraft was purchased by a Commemorative Air Force (CAF) member and donated to the newly formed CAF Arizona unit. She was meticulously restored and is today maintained in tip-top condition and operated by all-volunteer crews from the membership of CAF Airbase Arizona.