For the second year in a row a record number of people used the airport — more than 950,000. That's up 4.3% from 2015, which was the previous record year.
"2016 was the fifth year in a row that passenger numbers grew at our airport," says Tom Babik, chairman of the airport board of directors. "This kind of growth reflects the strength of the Southwest Missouri economy. When our economy is strong and growing more people fly. Our board and airport team wish to thank everyone who decided to fly from Springfield."
Passenger growth encourages airlines to add and improve air service. In the past 14 months American Airlines has added Springfield flights to Charlotte. Allegiant converted its seasonal Los Angeles flights to year-round service. Additionally, Allegiant announced new seasonal service to Destin/Ft. Walton Beach, which begins in May.
The airport sees growth in other important measurements —
In 2016 the number of scheduled airline flights went up 10%. Total number of available airline seats: up 12%. Total number of take offs and landings: up 13%.
"The number of take offs and landings had help in a couple of areas — airline growth in the market, plus the addition of Premier Flight Center which opened at the airport last May," says Brian Weiler, director of aviation. "Premier is a flight school and they're doing a booming business, with more than 20 active students."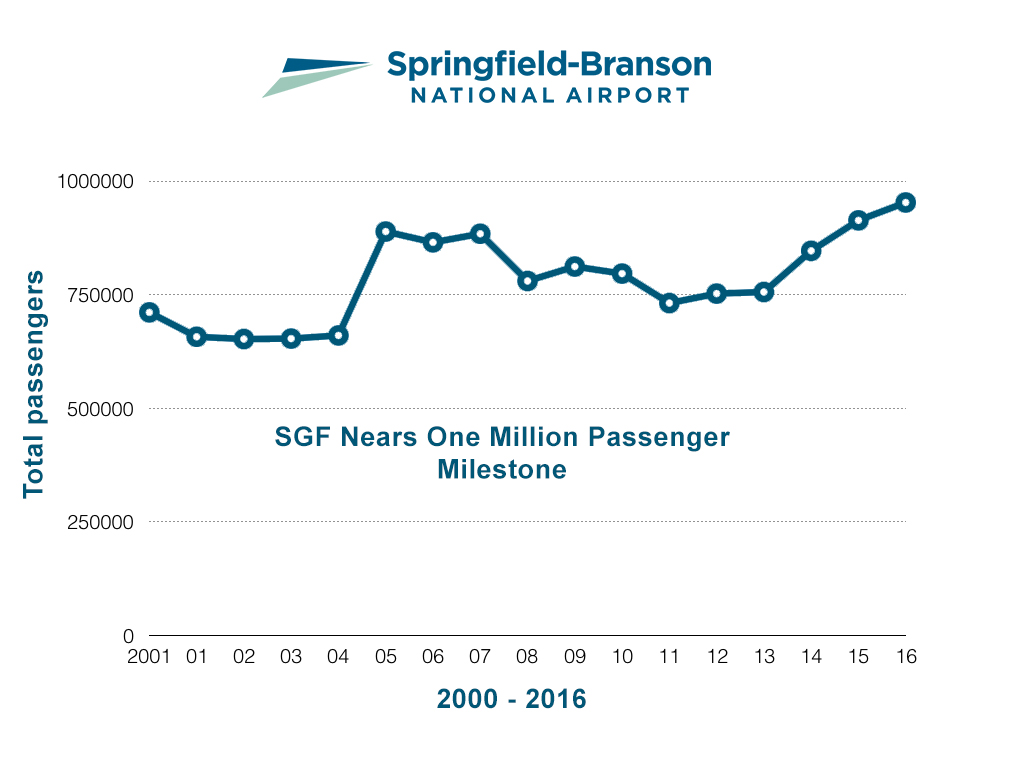 2017 promises to be another brisk year. The addition of flights to Destin/Ft. Walton Beach could help the airport set another record.
"We're getting closer and closer to the magic one million passenger milestone," says Weiler. "Once an airport reaches that level it's playing in a different league. Airlines are more willing to consider new service, and retailers are more inclined to improve food and retail options."
Airport growth is a good thing, but there are growing pains. Over the past couple of years airport parking lots have frequently been full. New parking lots opened earlier this month, adding more than 300 parking spaces. The parking crunch was inconvenient, but all in all, was a good problem to have.