The Springfield airport's longest serving employee is retiring. Steve Eggers began working at the airport as a firefighter, and aircraft fueler, on July 2, 1979.
That same year Sony introduced the Walkman. A gallon of gas cost 86 cents; Jimmy Carter was president. And Steve Eggers had shoulder length hair and "aviator sunglasses bigger than my face!"
When he retires next week, on March 13, he'll hold the record for longest serving airport employee: 40 years, 7 months, 13 days.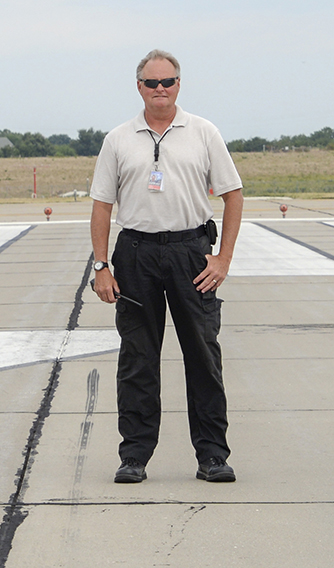 In 1979 the airport served just over 300,000 passengers. Last year that number was 1.2 million. The safety of every one of those passengers was in the hands of Steve Eggers.
He retires with the title of airport operations supervisor. In a nutshell, he oversees the safety and comfort of the flying public. More specifically: he oversees Aircraft Rescue Fire Fighting, and aircraft fueling. He's also the "wildlife guy." That means he's charged with keeping wildlife off the airfield. He's also the trainer for the following: snow removal operations, the airport self-inspection program, how to talk on the radios while on the airfield, and how to drive on the airfield. Besides all that, he's in charge of building and airfield    maintenance. When you get down to it, he's in charge of nearly everything. 
Eggers tells stories; forty years' worth. Like the one about fueling Lockheed Constellations — those massive propeller-driven, four-engine airliners that served before the jet age. When he started working at the airport the "Connies" were retired from passenger service, but still used as air freighters. He had to walk across their wings to fuel them. The Connies would protest — moan, groan, spit out smoke and oil.
Eggers says the best part of his job is meeting people. Rock stars and movie stars. Presidents and first ladies. Kings, queens, politicos of every stripe, World War II vets flying Honor Flights, and customers who fill the terminal every day.
Eggers' airport career began long before his employment …
He moved to a house just north of the airport when he was in the 8th grade. Sometimes he skipped school to go watch airplanes take off.
"I grew up on the outside looking in," says Eggers. "Now I'm on the inside looking out!"
When he retires he'll be on the outside again, but this time he'll have four decades of airport memories. And his co-workers will have fond memories of the man who definitely deserves the title, "Mister Airport."