Born on the 4th of July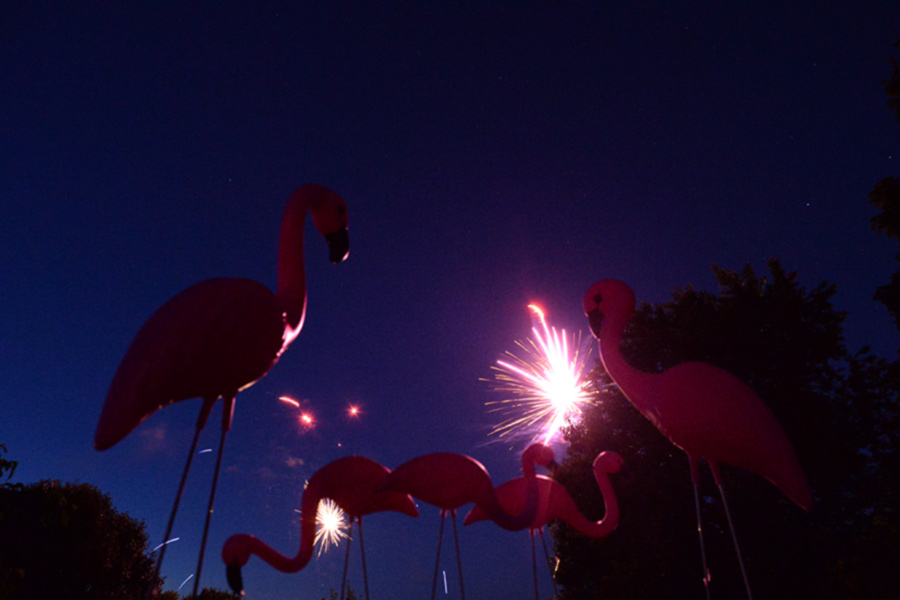 In Which Pinkley Learns About Diaper Pins ...
Pinkley Flamingo is sooooo glad July is over with — it was quite a month ...
First there was the matter of the egg. After the delivery stork finally found the right airport there was lots of waiting.
Pinkley stared at the egg for hours. When he wasn't starring he played tiddlywinks with Chris the airport paramedic.
Finally, on July 4th, the egg started to rock and … well … errrrr …. roll!
Pinkley stared goggled-eyed …Cracks appeared.
Pinkley's tail feathers fell out …

A piece of shell came off … a small pink head popped out …

Pinkly trembled …

Another head popped out!

Franchesca began cleaning the chicks and doing what mothers do best.

Pinkley babbled incoherently … "Twins!!!!!? Ahhhhhhh … not possible … one egg, one chick, one egg, one chick ….. that's what Chris said!!!!!!!!! One chick, one egg, one egg, one chick ……CHRIS!!!!!"

It was about this time that another head popped out …

THREEEEE!!?!!!

Poor Pinkley had a conniption fit. Chris scratched his head — he'd never treated a conniption!

Pinkley spent the rest of the month learning how to change diapers x 3. By August he'd finally stopped sticking himself with the diaper pins ... just in the nick of time 'cause Chris was almost out of band-aids and iodine!