2021 was a time of recovery at the Springfield airport. Passenger numbers improved 61 percent over 2020, which was a year marked by a steep decline in passengers due to the pandemic.
While 2021 was down from the airport's record year of 2019, it was still good enough to be ranked number four when measured by total passengers (see chart at bottom).
The recovery is good news for Southwest Missouri. That's because airport passenger numbers tend to reflect the economic health of the region — when the local economy is strong, more people fly. When weaker, fewer people fly.
Indeed, the return of passengers coincides with improvement in the Springfield area unemployment rate. Last November the rate stood at 2.1 percent. Compare that to April of 2020 when the rate was 11.5 percent. *
The region's strong economic performance, along with the passenger growth, helped persuade Allegiant Air to add service in 2021. The airline added service from Springfield to Austin, TX, Punta Gorda, FL, and Houston, TX. The additions give the airport 15 non-stop destinations — that's a record number.
Another sign of airline confidence in Springfield is the new, bigger maintenance hangar opened by American Airlines in December. American has had a maintenance operation in Springfield since the 1990s but had outgrown the facility. The opening of the new hangar creates the potential for additional jobs and improvements to Springfield air service.
Other growth indicators in 2021 include:
The number of scheduled airline flights grew 22 percent (8,452 in 2021 vs. 6,392 in 2020).
The amount of air freight going through the airport grew 14 percent (34,568,324 lbs. in 2021 vs. 30,298,029 lbs. in 2020).
The amount of aircraft fuel pumped at the airport grew 53% (7,783,068 gallons in 2021 vs. 5,080,649 gallons in 2020).
While there have been significant improvements at the airport since the early days of the pandemic, it's unclear what 2022 will bring — uncertainties remain firmly in place. Much depends on the course of the pandemic, and how it affects traveling habits and the airlines.
Four airlines serve Springfield: Allegiant, American, Delta, and United. They provide non-stop flights to 15 destinations: Los Angeles, Phoenix, Las Vegas, Denver, Austin, Dallas, Houston Hobby, Houston Intercontinental, Chicago, Atlanta, Charlotte, Destin/Ft. Walton Beach, Tampa/St. Petersburg, Orlando, and Punta Gorda/Ft. Myers.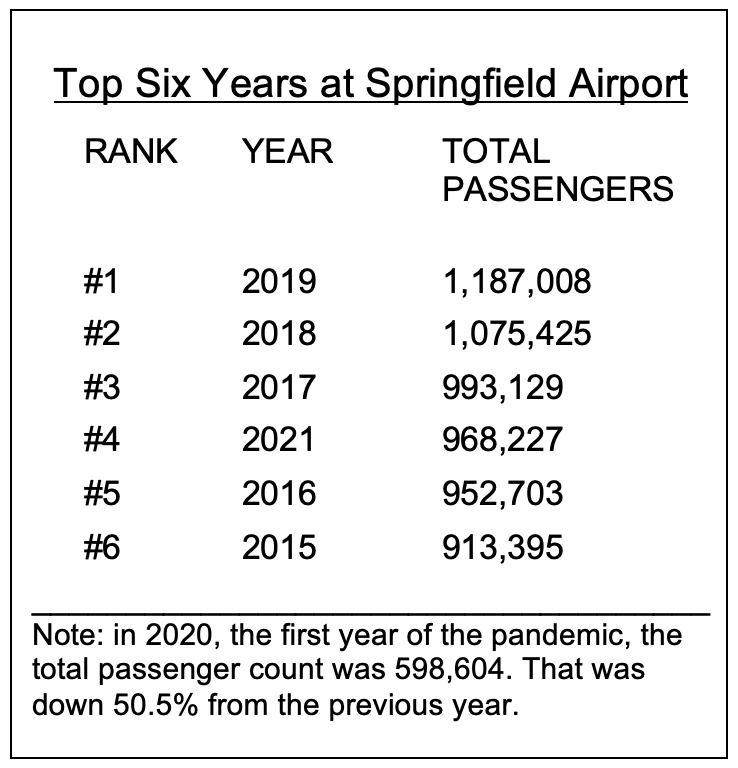 * Source:
Bureau of Labor Statistics