June 2023 was the busiest month in the history of the Springfield-Branson National Airport, with a total of 126,370 airline passengers.
So far this year, passenger numbers are up ten percent compared to last year. If that pace continues, 2023 will set a new yearly record, with approximately 1.3 million total passengers. The airport's last record year was pre-pandemic, in 2019.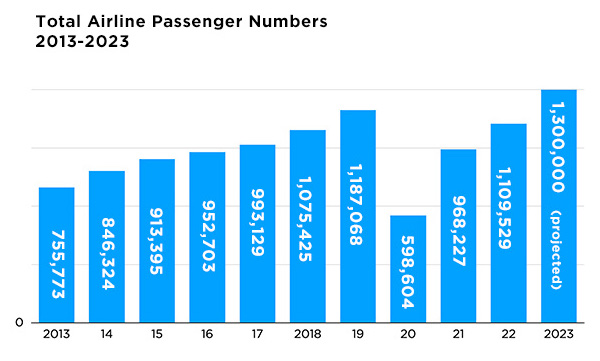 The growth appears to be the result of two things: a strong local and national economy and, perhaps more importantly, pent up demand for travel.
"During good economic times people travel more because they have more disposable income," says Kent Boyd, the airport's air service development manager. "But the growth this year is complicated. Airlines tell us that business travel has not returned to pre-pandemic levels, yet the number of people flying is still way up."
Industry wide airlines report that the number of people flying for leisure is significantly higher than before the pandemic, along with a large increase in those combining business and leisure into one trip. These blended trips are called "bleisure."
An example of a bleisure trip is a couple who flies to Florida for a business conference, but while there, also spends time at the beach.
Besides airline passenger growth, other airport metrics show growth as well …
During the first six months of 2023 there were 31,808 landings and take offs. That's up 20% over the same period last year. The number of scheduled airline flights was up 6.5 percent, and the amount of aircraft fuel sold grew 14 percent.
Four airlines serve Springfield: Allegiant, American, Delta, and United. They provide service to 13 non-stop destinations: Los Angeles, Phoenix, Las Vegas, Denver, Dallas, Charlotte, Chicago, Houston, Atlanta, Tampa/St. Petersburg, Orlando, Punta Gorda/Ft. Myers, and Destin/Ft. Walton Beach.