At least once a month military planes visit our airport so pilots can practice touch-and-goes.
"Touch and goes" is jargon for practice landings and take-offs. Here's how it works: the pilot brings the plane in for a landing. Almost as soon as the landing gear hits the pavement the pilot gives it the gas, accelerates down the runway, and takes off. They might do this two or three times, or a dozen — practice makes perfect.
I bring this up today because there's one particular aircraft that generates lots of curiosity and it's in town today — it's the C-40 Clipper from Scott Air Force Base. Whenever it's here we get several phone calls and e-mails wanting to know "what's going on?"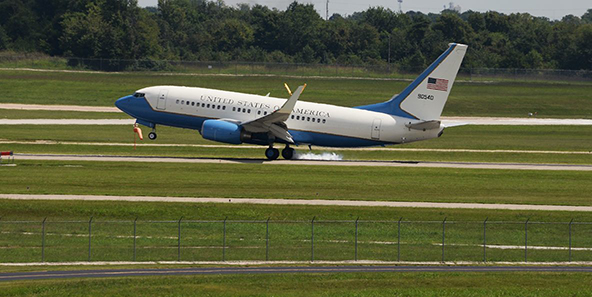 Most people are just generally curious. Others sound concerned.
The photo shows the Clipper just as it "touches" the ground.
When you see the paint job on the airplane it's easy to understand why it could be mistaken for the plane the President uses, Air Force One. The color scheme is similar, but the type of airplane is different. The President generally uses a Boeing 747. The C-40 Clipper is based on the Boeing 737-700. The 747 is much bigger. The Air Force uses that blue and white paint job on many of the planes it uses to transport passengers — not just Air Force One.
We also see A-10 Warthogs doing touch and goes around here, some fighter training aircraft, and the occasional 727 that's painted white. I think it's a Navy plane. It blends into a cloudy sky and generates LOTS of phone calls.
-KB